MAITREYA TOURS, our reference tour operator in Ladakh, has published the new program for 2016.
Our dear friend Dorjey Daya, owner of the agency, has gathered together on its site http://www.ladakhhimalaya.com/ (or on http://www.spiritualhimalaya.com) a rich collection of very different proposals.
We start with the Snow Leopard expeditions. Until the end of February it is possible to join a 12 days tour (including the first 2 for acclimatization in Leh and the next 10 days camping) allowing to spot the very rare feline in the Hemis National Park or in one of the other possible areas depending on its wanderings.
Link Leopard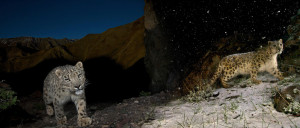 Also in February (14th to 24th) it will be possible to attend two festivals in Ladakh, having Oracles in the leading roles.
In the first festival, the Stok Guru Tsechu, the oracles are chosen among the men of the Stok village and, after being trained by the monks of the Spituk monastery, they linger among the watchers during the two days of celebration, performing blindfolded acrobatic dances and answering questions about the future.
The second festival is the Matho Nagrang, where the oracles are monks from the Matho monastery, they are chosen with a ballot and they stay "in charge" for four years.
Link Oracles
A beautiful trip in less famous regions in Northern India on the Pakistan borders is the one proposed with the Trans-Himalaya tour, where from Delhi you will travel first to Amristar, capital of the Sikh and location of their Golden Temple, and then you continue to Dharamshala, residence of the exiled Dalai Lama. From here we pass through the remote regions of Lahual and Spiti before crossing the western part of the Himalaya Range and reach Leh.
Link Trans-Himalaya
By the beautiful lakes of Tsokar and Tsomoriri in summertime it is possible to do bird-watching and spot some rare birds like the Black Necked Crane in a 10 days tour.
Link bird-watching
Besides all of the above Maitreya is offering of course the core of its offer, with the trekkings (link Trekking) with possible homestays where the itinerary allows it, and the classic Ladakh and Zanskar tours (link Tour) with all their natural and cultural beauty.
Mr. Daya is also now owner of a Guesthouse with six doubles to accomodate the guests in Leh.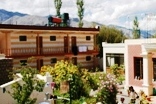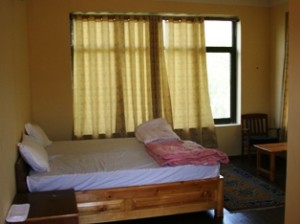 See here all the details on the location and other information and photos, and all the other possibilities for homestays either in the most famous sites and in remote villages.
For whoever would like to have some more information on Ladakh it could be interesting see the photos published (a few years ago ..) on the original Indratrek website (link Indratrek).
Julè Julè!